Origin Sleep is known for their hybrid mattress that offers the best of natural latex, memory foam and springs – which will provide optimal support and spinal alignment. The Origin Hybrid Mattress is designed to provide optimal support and comfort for those who suffer from back pains. Being 10-inches thick and packing 6 layers within the mattress, it is able to withstand heavy loads and offers sufficient resistance and support.
Durability & Supportive
One sign of a bad mattress is that it will sag and cause indents in the foam, causing strain on the back of the sleeper. This happens more quickly when someone weighs more, but it can happen to anyone, no matter which size. Pure memory foam mattresses also have a tendency for the sleeper to sink into the mattress easily. One issue is that over time, the foam will likely stay in the fixed position instead of bouncing back to its original shape. This will cause sleepers to experience backaches, especially when heavier parts such as hips sink into the mattress more so than the other parts. This can strain the back easily and cause sleepers to wake up feeling like they have been through a workout instead of a peaceful sleep.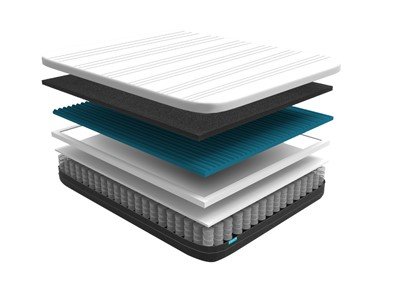 Origin's Hybrid Mattress has a natural latex layer that can last up to 15 years without sagging or losing its shape. Latex is a material made from the sap of rubber trees and is incredibly durable. Latex has great point elasticity meaning it compresses only during the point of contact. It has a natural resilience which offers resistance to a sleeper's weight in every body position and always returns to its initial shape. According to the Origin Sleep Lab experts, the latex and foam are able to provide strong resistance to the heavier body parts such as the lower back and hips and weaker resistance to the shoulders. This is part of the technology deployed by Origin to support spinal alignment and ensure that the body is well supported in every sleep position. Therefore, it is an ideal material for those with back and neck pain.
Breathability & Staying Cool Throughout the Night
The Origin Hybrid Mattress's unique design allows airflow between the layers, so you won't get too hot or feel trapped in the mattress. Additionally, the Cloud-Cool Memory Foam layer helps to dissipate heat efficiently and reduces the overall body temperature.
Many mattresses, especially memory foam mattresses, tend to trap heat due to their high density level. This will cause sleepers to feel extremely uncomfortable and perspire throughout the night, especially for the surfaces that meet the mattress. If you have ever woken up at night with a damp shirt, you probably know what I am talking about.
Nowadays, mattress companies infuse memory foam with cooling gels to ensure that the surface of the bed stays cool to the touch and allow air to circulate and flow easily. Origin has certainly gone beyond and ensured that all layers allow air to circulate freely. Other than infusing cooling gel in the memory foam layer, the pocketed springs are individually wrapped so that air can flow between the individual springs.
Certified to be toxin-free
Origin's Hybrid Mattress is certified by CertiPUR-US to be free of ozone depleters and heavy metals such as mercury, lead and formaldehyde. This means that you can sleep safe at night knowing that you will not absorb such harmful chemicals and your loved ones will also be protected at night.
15 Years Warranty & 200 Night Trial
If you are like myself who is deathly afraid of making purchases that I regret, Origin helps to solve that by offering a 200 night trial. This means that you can use the bed for more than half a year and if you find that it is not suitable, Origin can come pick up the mattress for free. In addition, I like that the returned mattresses will be donated to the British Heart Foundation so as to minimise the impact on the environment.
Price
The Origin Hybrid Mattress is also a great choice because of its price. The Origin Hybrid Mattress is going for £426 for a single bed, and up to £648 for a king bed. The prices are reasonable and competitive with other bed-in-box companies such as Emma and Simba. A reason why Origin is able to provide premium natural latex as one of its layers for a low price is due to its innovative design. Latex is often found in mid to high tier mattresses and it is a steal to be able to experience the comfort of latex at less than £500.
Verdict
The Origin Hybrid Mattress is ideal for anyone who wants to have a quality sleep, feel well supported on their sides or back and feel comfortable on a plush surface. It has won several awards from Product Nation, the Star and Sleeps Express for relieving back pains and enhanced comfort. The mattress features a supportive memory foam layer that contours around your body to provide relief from back pain and to provide optimal spinal alignment and comfort.
Additionally, the Origin Hybrid Mattress is made from durable materials that will last for years without sagging or breaking down over time. This mattress is also a great value, with the single sized mattress costing less than £500. For these reasons, the Origin Hybrid Mattress is a good choice for those with back pain and discomfort during sleep.
I love tech and gaming, and am always looking for the 'next big thing'…