Along with the new iPhone14 and iPhone 14 Pro announced last week, Apple is also releasing its annual iOS update – iOS16 is released today.
iOS is the mobile operating system that Apple uses to run its iPhones and iPads.
What's new in iOS16?
We wrote an in-depth piece on the new iOS16 features when announced back at WWDC2022, but here's a summary of what you can expect.
Customization of Lock-Screen
The lock-screen is much more customizable by users in the latest version. For example, the subjects in the wallpaper are adjusted to appear in front of the time, giving it the necessary depth. Furthermore, the lock-screen can also display calendar events, alarms, reminders, and more.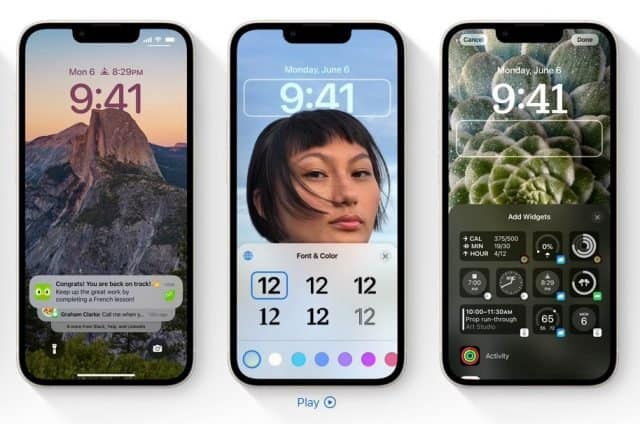 You can also now switch your Lock Screen throughout the day. Touch and hold it, and then swipe.
Live Activities help you stay on top of things that are happening in real time, straight from your Lock Screen.
Smart Photo Sharing to iCloud Shared Photo Library
iOS16 also brings the shared photo library, where one can share specific pictures in a separate library with up to 6 collaborators. The camera also has a toggle using which you can directly share the pictures to this library.
Messages
You can edit a message for up to 15 minutes after sending it. You can also now Unsend any message for up to 15 minutes after sending it.
Safari
Share a set of tabs with friends. Everyone can add their own tabs and see the Tab Group update instantly as you work together. Extensions syncing and settings you've set for specific websites, like page zoom and automatic Reader view, will sync across devices.
>> A Complete Guide to Apple iOS16 and Its Features
How do I get iOS16?
iOS16 is released around 6pm UK time, simply go to:
Settings
General
Software Update
Your iPhone will check if the download is available for you, and prompt you to install if it is.
Remember to have at least 50% battery life, or be on charge, to be able to install the update. You also need to be connected to WiFi to download the update.
What's new in relation to the iPhone14 Pro?
The iPhone14 Pro has the new Dynamic Island, and this results in some new features in iOS16 specifically for this device.
The dynamic island is the replacement for the 'notch' and reduces the size down to a small rounded edge 'pill'. Apple have cleverly used this as an opportunity for UI greatness and use this space to hold in context notifications like timers, music playing etc. Minimising one of these island display compatible Apps provides a beautiful animation.
Watch the video below to see more:
Apple has opened up an API for third party Apps to make use of this dynamic island space, so expect to see lots more innovative uses in the future.
What devices are supported?
iOS 16 is compatible with these devices.
>> Want a new iPhone14? Buy from Three the UKs best network for data
iPhone 13
iPhone 13 Pro Max
iPhone 12
iPhone 12 Pro
iPhone 12 Pro Max
iPhone 11
iPhone XS
iPhone XS Max
iPhone XR
iPhone X
iPhone 8
iPhone 8 Plus
iPhone SE (2nd generation or later)
So now that iOS16 is released you have all the information you need – go grab your download and install it now!
>> Official Apple iOS16 page

This post was written by Rob Gordon, an IT geek, gadget lover and blogger. Rob has been using the internets since 1994 when the only streaming video was that coffee pot in Cambridge (rip)….
Follow Rob on Twitter – @robgordon – about.me/robgordonuk