If you're looking for a travel backpack and laptop bag in one, then you've found it in the GOMATIC Backpack. You get two bags in one with this bag, which works like a regular backpack with a dedicated laptop compartment, while also working as a travel bag with a luggage design. Light, durable, and great as a carry-on bag for plane travel, this GOMATIC backpack is perfect for digital nomads travelling for 1 to 5 days on the road. Let's take a look at its features and design details with this GOMATIC Backpack review.
Take 2 bottles into the shower?
GOMATIC Backpack Review
The GOMATIC Backpack Backpack is minimal, sleek, and contemporary. It comes in a rectangular shape, with 22 pockets or compartments that allow you to organise your stuff with ease. There's a shoe compartment, laptop sleeve, and other pockets that allow you to never lose your keys or pens in your bag ever again.
The material is durable and water-resistant, which is perfect for travelling during the rainy season as it keeps everything inside dry. Whether you have a laptop, chargers, or a camera inside this backpack, you can rest assured they stay safe and dry.
The front of the bag has an accessories area which zip open to about 45° and contains multiple pockets, some elasticated, some zippered. There is a dedicated RFID safe pouch too.
On the top is a small convenient zippered compartment which can be accessed easily while carrying the bag. Great for essentials while walking through an airport for example.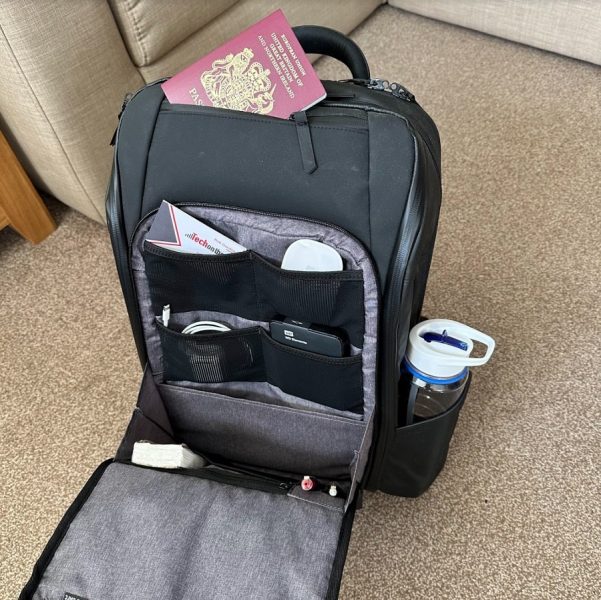 It also features a mesh divider, RFID-safe pocket, and roller bay sleeves, with soft and cushy back padding for comfortable wear.
The main compartment is room, the mesh compartment lets you divide your clothes if needed. There are also 4 elasticated mesh pockets inside for taller things. GOMATIC also include a rigid glasses/sunglasses holder for you which fits nicely into any one of these.
This bag is an OCD organizers dream come true!
When used as a daily bag, it stands at 20L capacity but it expands up to 24L capacity when maximised. All in all, you can pack up to 5 days' worth of clothes and travel essentials in this backpack. Compression bags will always help you fit more in!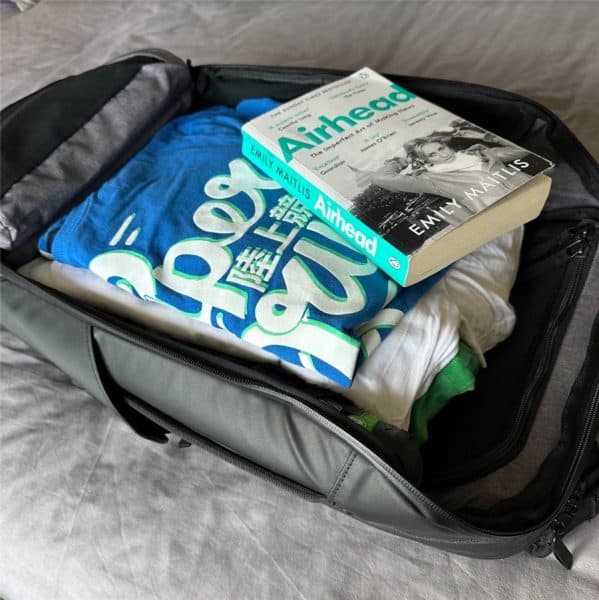 Styling
The Backpack features two innovative styles in one bag: full-zippered front access and a clamshell-type opening. The full-zipper front access allows you to open the entire front pocket of the bag completely for convenient and fast packing and unpacking. The clamshell-type opening makes it ready for TSA checking with ease at the airport. It opens from the top like a typical backpack, also making it a great daily backpack with a laptop sleeve you can bring to school or work.
The patent-pending innovative strap system allows you to use it as a regular backpack but if you want to carry it with your hands, you can also do so, since the straps can convert into a duffel-style bag.
Size
The Backpack officially measures 47cm x 30cm x 13cm (standard) or 19 cm when expanded. The bag is quite rigid and while it can flex/compress a little, it holds it's shape fairly vigorously.
This is a good blend of being big enough to last 1-5 days, and small enough to still be portable and comfortable.
I tested this bag for 5 days travelling in France starting with an EasyJet flight, followed by several days of driving where the backpack was pulled in and out of a car multiple times. It worked well being both portable and comfortable to wear while allowing me to being all the essentials I needed. Don't get me wrong, I travelled lightly – I managed with one pair of shoes and one very light hoodie – but then France in the summer allows for this.
No other backpack I own could have taken 5 days worth of clothes, plus a laptop, mouse, charger and all the other digital accessories I simply have to travel with. Not forgetting the washbag, book, headphones, the list goes on!
The only issue is it is slightly too big for the 'carry on' regulations on most budget airlines. EasyJet and RyanAir both stipulate carry on to be 40 x 20 x 25cm and this bag is too big. I gambled and travelled with it as carry on, and wasn't stopped. I'm not sure it would have 'compressed' enough for the annoying size testers if it had come to it though.
Durability
Designed for travel and expandability, GOMATIC made sure you can use it for travelling for several days and on many occasions without a glitch. Whether you're travelling for work, recreation, or adventures, the people behind the company wanted to create a bag that digital nomads or adventurers could take with them from country to country.
Because of this, the bag is engineered with durable construction details, using technologies from luggage design and specifications. The water-proof material itself means the bag won't easily get damaged even when exposed to the elements such as direct sunlight or moisture.
The top handle is very solid. It's extremely well padded, so carrying the bag one handed is comfortable, and its There is no doubt this thing will last.
Pros and Cons
The GOMATIC Backpack is a great piece of bag for travelling or daily use but it's not without a few drawbacks. But first, let's take a look at its advantages:
Pros
Expands up to 20% of its standing capacity
A laptop sleeve eliminates the need for a laptop bag
Side and top handle styles double the backpack as a luggage item
The water-proof material keeps things dry inside
It helps you keep organised with 22 pockets
The biggest asset of this bag is its 20+ innovative storage pockets. It has two magnetic water bottle pockets on the outside, a laptop sleeve, inner zipped clothes compartment, and 20 other pockets that let you organize your things with ease. The zipper details also make packing and opening easy and convenient, especially upon TSA/security inspection at the airport.
Cons
Too small for longer travels
Only comes in one colour
Not ideal for those that don't need to bring a laptop
The bag may be too small if you're traveling for more than 5 days. At 24L max capacity, it doesn't leave a lot of room for extra clothes or items. If you don't need to travel with a laptop, the laptop compartment may be useless, but you can always put documents or folded clothes in it's place. It also only comes in one colour, Model T style, so there's no other option if you want a brighter or lighter design.
Despite these minor disadvantages, the GOMATIC Backpack is a great option for today's digital nomads who travel for work or who want to explore the world while also wanting to carry their stuff and gadgets with them wherever they want to go.
Price in the Market
The price for the GOMATIC Backpack is £229 and is available from GOMATIC directly, or via Amazon UK and other retailers.
The Bottom Line
The GOMATIC Backpack is a durable, functional, and sleek bag that's perfect for anyone who needs a carry-on backpack that doubles as convenient light luggage you can hand carry on a plane. It expands up to 20% of its size, with 22 pocket compartments that make organising your things a breeze. If you need to bring your laptop and other gadgets with you when you travel, this backpack is a great choice to handle all your accessories and clothes.
I hope you found this GOMATIC Backpack review useful. You can also read more bag reviews here.
>> Buy the GOMATIC Backpack on Amazon UK from £229
>> Official GOMATIC UK Backpack website

This post was written by Rob Gordon, an IT geek, gadget lover and blogger. Rob has been using the internets since 1994 when the only streaming video was that coffee pot in Cambridge (rip)….
Follow Rob on Twitter – @robgordon – about.me/robgordonuk