Driving isn't for everyone, but it does a lot for those who love to get out on the open road. Being able to take long road trips without being by yourself is almost priceless. CarPlay is a great way to not only be entertained while driving, but also have easy access to all of your messages, calls, and maps (among others). It's like having your smartphone in-car. In this article, we will discuss the top 5 Carplay apps for 2022.
New CarPlay Features in iOS16
Apple has recently announced a new version of its iOS operating system, iOS16. With it comes a host of new features, including CarPlay. There are new features in CarPlay that make the experience more intuitive and safer.
New app categories 
Apple has added two new categories for apps it will allow to run in CarPlay: fuelling apps and driving task apps. Developers will have to create apps with these new features, so we will watch with interest to see what Apps take advantage of this.
Auto send messages with Siri 
The messages app within CarPlay can now automatically send a message during message dictation mode after it has been read back to the driver. This saves a whole step confirming the message can be sent.
Apple Maps
Finally, Apple Maps has been updated to (finally) allow multi-stop routes in route planning. Apple Maps has gotten a lot better over the years, but Google Maps is still the go-to map app for many people. To make it easy to switch between them, you can now just ask Siri to take you somewhere using Google Maps instead of Apple Maps.
Top 5 CarPlay Apps for 2022
The year is 2022. Apple has stopped the development of Android Auto (having by then bought Android) and has released their own operating system called CarPlay. Following this, Google decided to close all their markets and focus on the development of self-driving cars. At this point, CarPlay was pretty much the only available market for car multimedia systems. Lets look at the apps that made it to the top 5 in 2022.
1.Google Maps
Google Maps is one of the best mapping apps out there, and it's now available in CarPlay. You can use it to get directions, find parking and even navigate your way through traffic jams. It's a great alternative to Apple Maps if you don't like the latter's navigation or turn-by-turn directions.
Download here: https://apps.apple.com/gb/app/google-maps-transit-food/id585027354
2.Waze
Waze is a crowdsourced navigation app that relies on other users reporting accidents, hazards and police activity on roadways. This can make for an accurate picture of what's happening on the road ahead — as long as people are using it regularly. If you're looking for something more reliable than Siri-based navigation, Waze will do the trick nicely.
Download here: https://apps.apple.com/gb/app/waze-navigation-live-traffic/id323229106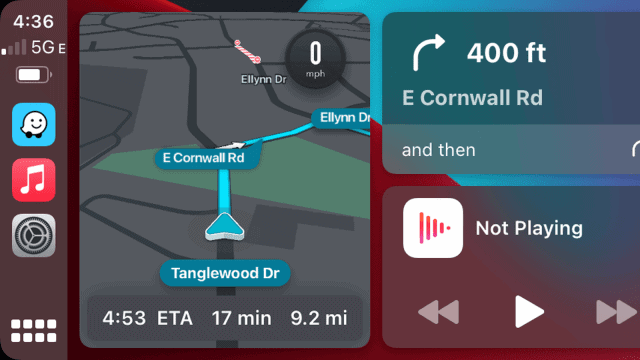 3.Spotify Music
Spotify Music has been available on CarPlay since 2016, but it's still one of our favourites because it offers so much music variety at an affordable price point (£9.99 per month). You can browse through albums, playlists and artists at your leisure by using voice commands or simply tapping on an album cover in your car's display screen. The app also lets you skip tracks and adjust volume without taking your eyes off the road or distracting yourself with touch gestures.
Download here: https://apps.apple.com/gb/app/spotify-music-and-podcasts/id324684580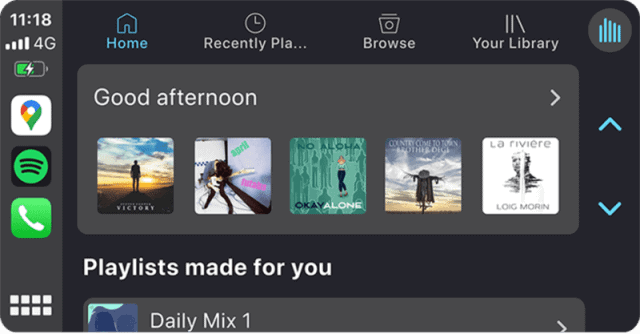 4.Pocket Casts
Pocket Casts is the best podcast manager for iOS and CarPlay, with a great interface and support for all kinds of podcasts. You can download episodes on demand, sync with your favourite services, and even download shows automatically if you're going to be driving for a while. It's not cheap, but it's worth it.
Download here: https://apps.apple.com/gb/app/pocket-casts/id414834813
5.Audible
Audible is the audiobook service owned by Amazon — and if you've got an Amazon Prime subscription, it's free to use. The app will read stories out loud through your car's stereo speakers, or you can listen to them in silence with good background music.
Download here: https://apps.apple.com/gb/app/audible-audiobooks-podcasts/id379693831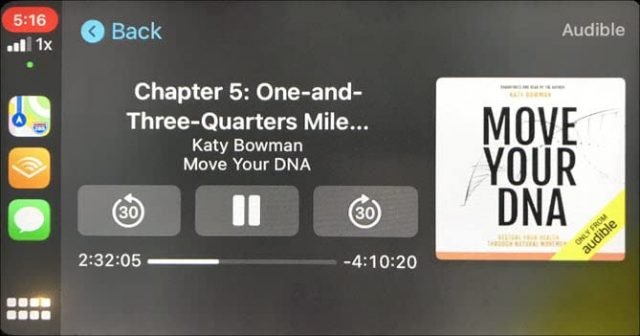 Top 5 CarPlay Apps for 2022 Summary
All in all, it's a promising future for CarPlay apps. With GPS and car control capabilities, an ever-growing selection of apps and commands, and extensions to allow manual control of vehicle settings, there's a lot of potential for CarPlay apps to enhance the driving experience. And as long as this potential is realized, Apple CarPlay will remain a top choice for anyone looking to go digital.

This post was written by Rob Gordon, an IT geek, gadget lover and blogger. Rob has been using the internets since 1994 when the only streaming video was that coffee pot in Cambridge (rip)….
Follow Rob on Twitter – @robgordon – about.me/robgordonuk