The Curved Monitor Light Bar from Quntis is a quality led light that provides downward illumination onto your desk area. Take a look at my Quntis curved monitor light bar review below.
Quntis Curved Monitor Light Bar Overview
Available in elegant dimensions of 2 cm depth, 51 cm width, and 2 cm height, the product comes in a royal black colour with a great style. This item from Quntis offers an excellent option to view your desktop comfortably without the problems of glare or flicker. Besides, its adjustable brightness feature (5%-100%) and CRI>95 lets you experience a minimum colour difference, making it particularly useful for artists or hobbyists keen on colour variations.
Though initially, you may feel the light bar to be a sort of barrier to your monitor, you gradually get used to it. One way to tackle this problem is by keeping your monitor view unobstructed by any other smaller objects in front of the screen. However, the bright light from the bar offers you a hassle-free and enjoyable work experience.
Some WoW features!
Provided with adjustable front and rear covers for the monitor screens, the lamp comes with a special clip. This feature makes the Quntis monitor lamp gel well with curved, thin, or irregular screens. Besides letting you rotate the light bar 45 degrees to make your viewing angle compatible, it comes with a remote as well. You can effortlessly increase or decrease the brightness levels and the colour temperature to suit your requirements.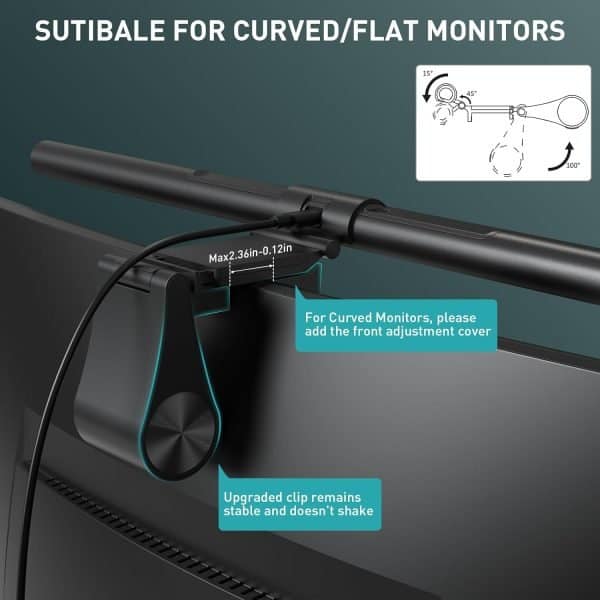 Among some of its awesome features comes its unique auto-dimming and memory functions. Equipped with an in-built light sensor, the light bar allows you to click the remote twice, and in turn, it automatically checks the environment, adjusting the brightness best suited to your eyes. Thanks to Quntis, it's making the arduous lives of students and working professionals, a lot easier.
Rest Function
In most cases, you may sit for hours together glued to the desktop screens. Quntis curved monitor light bar offers a respite. It comes with a 2-hour timer function that serves as a reminder. You can take a break every 2 hours and give some rest to your eyes.
Last but not least, the Quntis lamp is powered by a standard USB-C connector, allowing you to connect it to your computer or even a mobile phone charger, so there's no need to worry about space or problems with installation. The elegantly designed clip lets you mount the screen light on most monitors, with the process taking just a few seconds.
Finally, the most crucial parameter that impacts the buying decision. Yes, the price. The light bar is one of the best products in terms of – quality of light, exceptional features, utility aspects of the remote, and more. That said, its value is worth the price you pay for it!
Closing thoughts
With a sleek design combined with the best features apt to the needs of artists, students, and office workers, the Quntis curved monitor light bar is the perfect model in its segment.
>> Buy the Quntis Curved Monitor Light Bar on Amazon UK from just £59 (currently 10% off)
Video Review
You can also check out my video overview below:

This post was written by Rob Gordon, an IT geek, gadget lover and blogger. Rob has been using the internets since 1994 when the only streaming video was that coffee pot in Cambridge (rip)….
Follow Rob on Twitter – @robgordon – about.me/robgordonuk